22/03/2022
FUSION BREAKS GROUND ON HOTEL TOWER IN DANANG
Danang, 22 March 2022 – Fusion, a leading innovator of wellness-inspired hotels and resorts in Southeast Asia, officially broke ground for an 18-story hotel in Danang, the latest phase of its 15.75-hectare development the Fusion Resort & Villas Danang, located on the coast of Non Nuoc. The project is a joint investment between Lodgis Hospitality Holding and VinaLiving, real estate brand of VinaCapital.
The hotel tower, designed by Fusion designers' team, will have 157 rooms with 182 bedrooms, most having sea views. On the upper floors, there will be 49 executive rooms, the hotel will also feature a "Green Floor" at on the 10th floor, accommodating a restaurant and bar, with adjoining garden terraces with sea views. The main restaurant is located next to the panoramic pool, which overlooks the beach and beach garden area. The all-day restaurant will seat 110 guests indoors and 48 guest outdoors. The 60-meter pool will include a children's pool area and has changing rooms and showers for guests. Meanwhile, the beach garden area will offer cultural and fun social activities for guests in the evenings.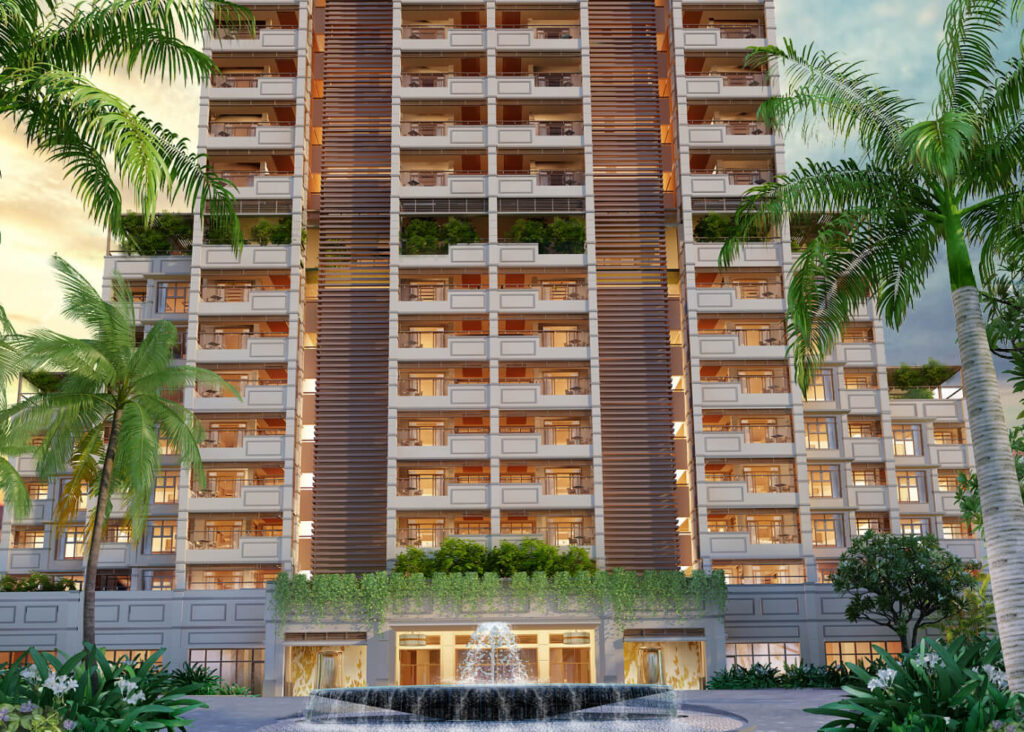 The hotel is the latest phase of the property's development. Phase 1, which included the construction of 44 villas, started in June 2019, and the homes are on-track to be handed over to owners in Q4 2022. These villas range in size from one- to six- bedrooms, with land areas of 370 m2 – 1,780m2, and are divided into six types: presidential villas, beachfront villas, premier villas, beach garden villas, garden terrace villas and garden front villas. Each villa has its own pool surrounded by beautiful gardens to creating a relaxed and tranquil environment. An additional 41 villas are scheduled to be delivered in the near future.
In addition to the amenities offered in the hotel, Fusion Resort & Villas Danang offers many more, all of which are consistent with the brand's identity built around an innovative take on wellness-inspired hospitality. Its core values are reflected in every detail of every property, from the architecture and living spaces, to the amenities and customer service.
A beachside grill, restaurant and bar accommodating 68 guests indoors and 70 guests outdoor will serve lunch and evening drinks and meals. There will be a standalone gym club, as well as a kids' club, both with indoor and outdoor activity areas. A hallmark of the Fusion wellness experience is the spa, and the Danang property will be one of the largest in Vietnam, with a large indoor pool. It will feature 30 treatment rooms, a yoga room, a meditation room, hand & foot massage room, saunas, and changing rooms. The spa will be set in a sunken tranquil landscaped garden, with outdoor pavilions and a feature pond. Another unique feature of the spa is its green roof, which greets guest entering the hotel reception area.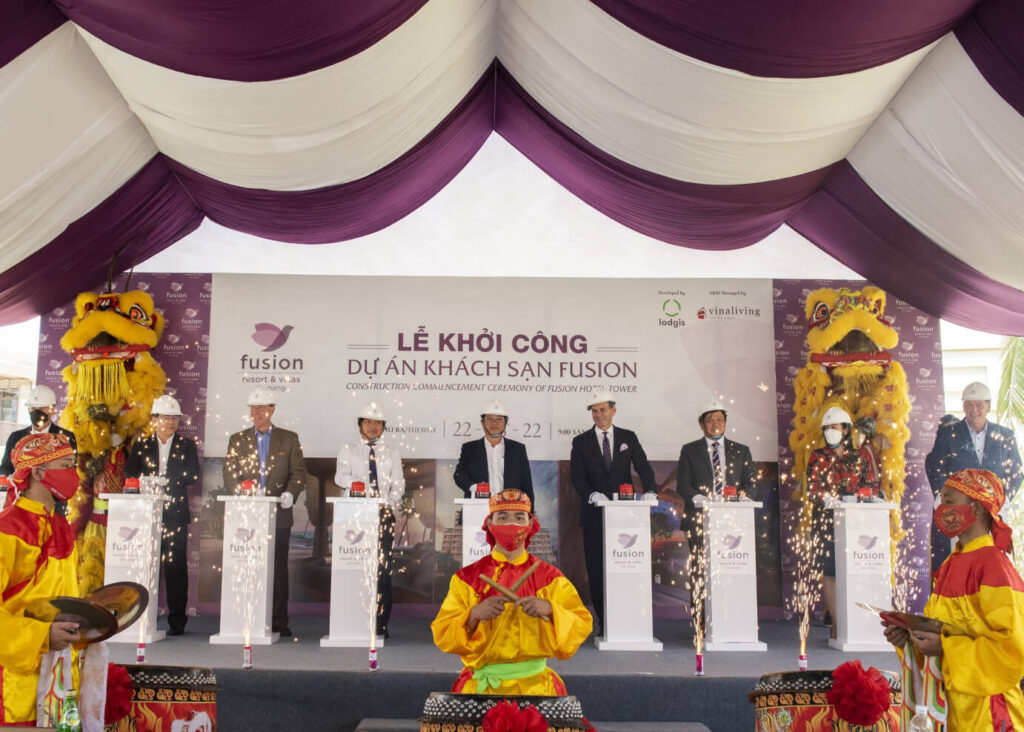 Peter MEYER, CEO of Lodgis Hospitality, commented: "We're excited to start construction on the hotel tower of the Fusion Resort & Villas Danang, which will quickly become one of the region's premier destination for tourists seeking a tranquil environment set among one of the most beautiful spots in the area. Despite the challenges that have been posed by the pandemic, we're delighted that construction is moving ahead, and delivery of the villas is set for later this year as planned. Further, today's ground-breaking ceremony symbolizes our strong confidence that tourism will see a robust recovery in the months and years ahead, and we are looking forward to welcoming tourists back to Vietnam."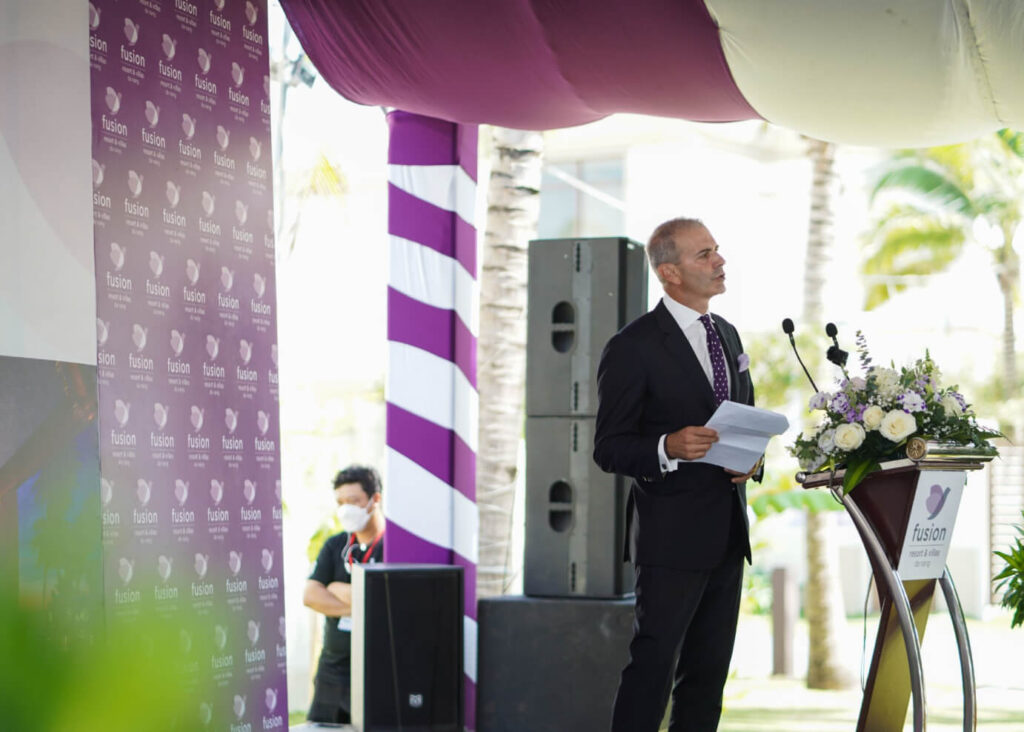 About Lodgis Hospitality Holdings
Established in November 2016 by Warburg Pincus, VinaCapital, and VinaCapital's founder, Don Lam, Lodgis is a fully integrated hotel platform targeting the development, acquisition, and management of hospitality assets across Southeast Asia. Lodgis has amassed a portfolio of best-in-class hospitality assets and management agreements across Vietnam and Southeast Asia represented with more than 30 projects, approximately 3,000 rooms under the ownership, and nearly up to 4,000 rooms managed. The portfolio includes irreplaceable historic assets such as the Sofitel Legend Metropole Hanoi, Raffles Le Royal Phnom Penh, and Raffles Siem Reap as well as the Ho Tram Strip Integrated Resort and Casino and several attractive destination assets across key markets in Vietnam.
For more information, please visit www.lodgis.sg.
About Fusion Hotel Group
Established in 2008 and acquired by Lodgis Hospitality Holdings in 2016, Fusion is a leading hotel management and brand company providing management, brand franchise and design consultancy and services across a suite of brands including Fusion Resorts, Fusion Suites, Fusion Originals, Maia, Hiive, GLOW and GLOW the Premium Collection. Fusion has up to 26 hotels and nearly up to 4,000 keys with representation in all the leading cities and tourist regions in Vietnam and Thailand, including Ho Chi Minh City, Da Nang, Nha Trang, Cam Ranh, Phu Quoc, Quy Nhon, Vung Tau, Bangkok, Krabi, Pattaya and Phuket with several other destinations in the pipeline. Fusion is uniquely positioned as one of the few fully vertically integrated hospitality companies in the region which has allowed it to quickly scale its concepts and brands throughout Southeast Asia.
For more information, please visit www.fusionhotelgroup.com.
About VinaLiving
VinaLiving is Vietnam's first lifestyle and tailored- living brand that caters to the new generation of Vietnamese homeowners. The VinaLiving collections of properties carefully delivers customized living environments across a range of developments situated in premium locations. Our properties are developed to meet the growing demand in Vietnam for something above the normal. We design homes and communities that allow people to live a better, more comfortable and fulfilling life. VinaLiving is a subsidiary of VinaCapital, one of the leading investment management companies in Vietnam, with nearly USD4 billion in assets under management.
For more information, please visit www.vinaliving.com.vn.
For more information, please contact:
Mrs. Truong Thi Minh Hanh
Vice President of Sales & Marketing
Email: hanh.truong@vinacapital.com
Mobile: 0909 15 25 68
Thank you for subscribing to our newsletter. VinaLiving's latest project launches will be delivered right to your inbox.