14/06/2023
Maia Quy Nhon Beach Resort wins multiple honours at the Asia-Pacific Property Awards 2023
At the International Property Awards ceremony held in Bangkok (Thailand) on May 30 – 31, 2023 (Asia-Pacific region), Maia Quy Nhon Beach Resort and VinaLiving – the member of VinaCapital Group, honoured to receive all 5 awards for 5 contest categories.
5 categories of prestigious awards
Maia Quy Nhon Beach Resort won two 5-star awards, including: " Best New Hotel Construction & Design Vietnam " for Maia Resort Quy Nhon (phase 1 of the project); "Best Residential Development Vietnam" for The Ocean Villas Quy Nhon (phase 2 of the project); and two awards " Hotel Interior Vietnam"" for Maia Resort Quy Nhon, " Architecture Multiple Residence Vietnam " for The Ocean Villas Quy Nhon.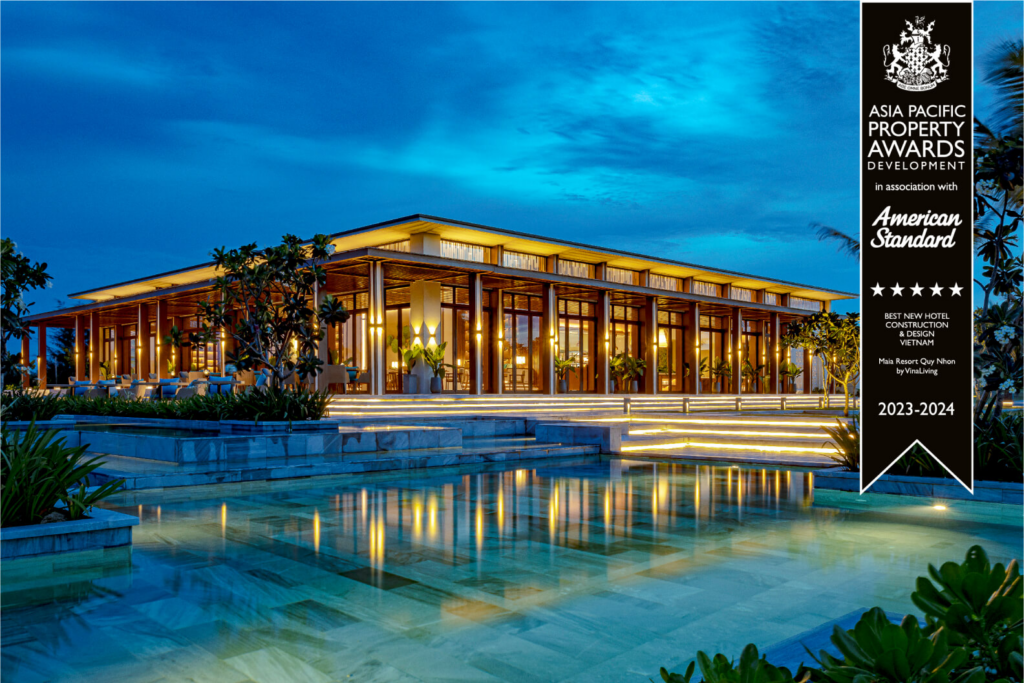 Maia Quy Nhon Beach Resort was also nominated for the international round in two categories "New Hotel Construction & Design Asia-Pacific" and "Residential Development Asia-Pacific" for Maia Resort Quy Nhon and The Ocean Villas Quy Nhon. The developer VinaLiving wins "Property Agency/Consultancy Marketing Vietnam".
This year's accolades bring VinaLiving's total number of Awards to 18 since it competed for its first awards in 2011.
Mr. Do Chi Hieu, Chairman and CEO of VinaLiving, commented, "These international awards affirm VinaLiving as a recognized real estate development firm and help to verify the superior standard of quality and expertise we apply to each project we are involved in. We believe our approach of offering buyers a product that meets international standards at a competitive price, under one master brand, sets VinaLiving apart from its competitors not only in Vietnam, but also across the Asia Pacific region."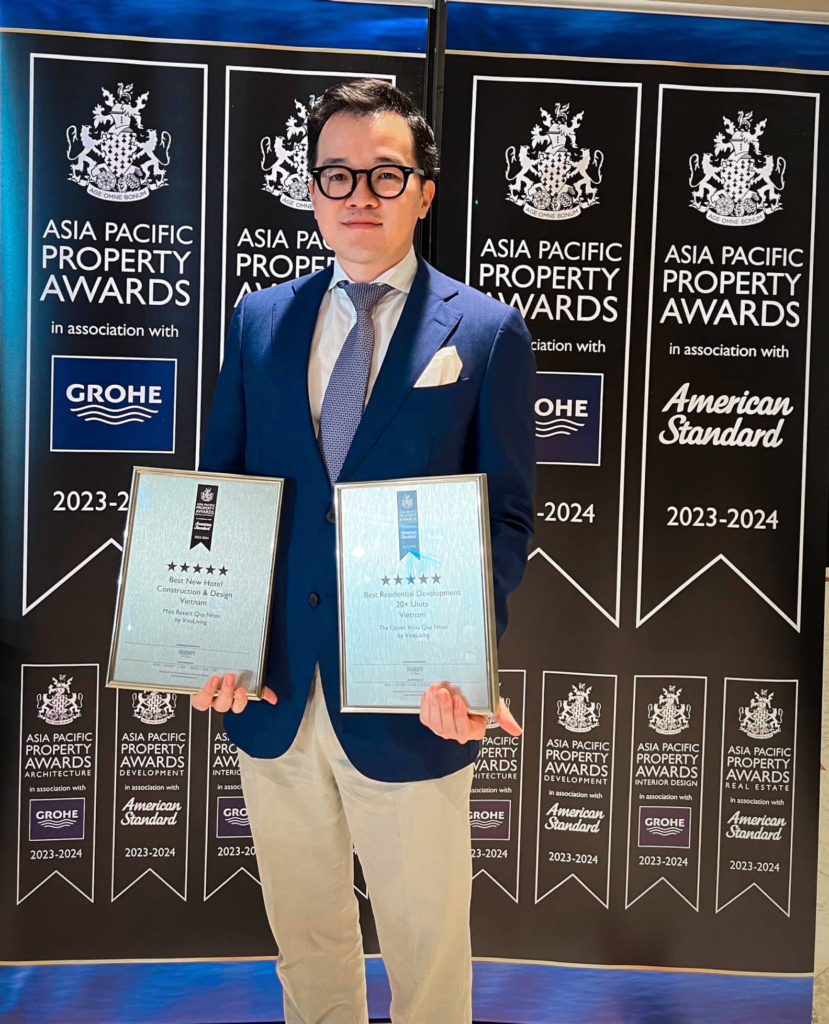 Continue to develop international standard luxury resort projects.
The Ocean Villas Quy Nhon is VinaLiving's latest project in Quy Nhon in central Vietnam. Located on the most beautiful beach in Nhon Hoi, The Ocean Villas Quy Nhon is a nearly 22 ha development comprised of 290 luxurious villas where the ultimate style meets impeccable design, with a range of luxury facilities. Inspired by the balance of wellness and culinary arts, Maia Resort Quy Nhon includes 88 villas with an open space design style that offers residents and guests a sense of comfort, privacy, and convenience. Each villa has its own private swimming pool, outdoor salon and spacious garden that harmoniously 'brings the outside in'.
"With the continued success of our integrated resort and world class golf course in Danang – The Ocean Resort (260 ha), along with Maia Resort Quy Nhon and The Ocean Villas Quy Nhon in Quy Nhon, Binh Dinh, VinaLiving will be building on that experience and launching a landmark integrated resort and golf development in Quy Nhon later this year. The 236 – ha project will be comprised of diversified components, such as Hill Villas, Beach Villas, and 18-hole golf course, a Hyatt Regency-branded hotel together with top-tier facilities. Additionally, VinaLiving will also introduce to the market The Ocean Suites, the latest phase in the Maia Quy Nhon Beach Resort. The Ocean Suites is a luxury low-rise condotel, consisting of two towers with 80 units ranging from 1 to 5 bedroom. Designed in a modern style with stunning views of the beach and the private garden and a resort-styled interior design, The Ocean Suites will be managed and operated by the Fusion brand. This is a promising and not-to-be-missed investment opportunity," said Hieu.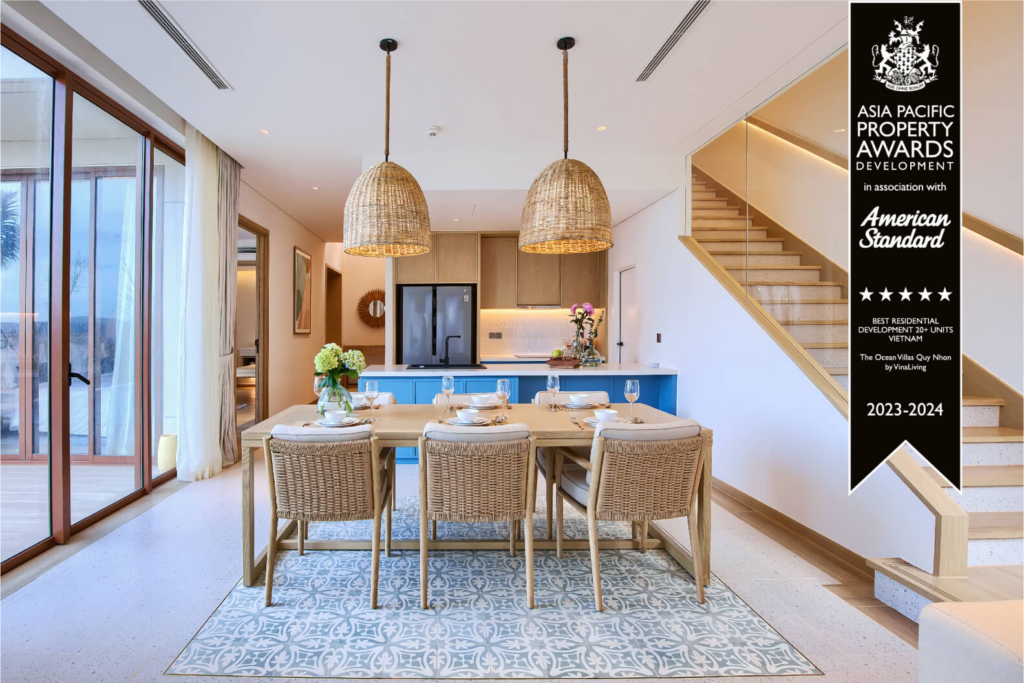 With a well-rounded team of real estate professionals, VinaLiving offers comprehensive real estate advisory and development strategies, helping to elevate the brand and increase value for developers.
About VinaLiving
VinaLiving is the international award-winning real estate development brand established by VinaCapital in 2010. Over the past decade, VinaLiving has become recognized for its pioneering boutique resort-style residential developments in Vietnam. Its philosophy "Bring the Resort Lifestyle Home" is inspired by homeowners who seek peace, seclusion, and privacy in a beautiful, natural environment. VinaLiving's homes feature innovative and sophisticated designs that frame the landscape, and are renowned for their superior quality, sustainable materials, and access to top-tier facilities within their gated communities. VinaLiving has an in-house team to manage the entire development process, from concept design to the operational stage. Since its founding, VinaLiving has developed many premier residential properties in central Vietnam and in HCMC.
More information about VinaLiving may be found at: https://vinaliving.com.vn/
About the International Property Awards
The International Property Awards are open to residential and commercial property professionals from around the globe. Since 1995, they have celebrated the highest levels of achievement by companies operating in all sectors of the property and real estate industry. The awards are split into regions covering Africa, Asia Pacific, Arabia, Canada, Caribbean, Central and South America, Europe, UK and USA. The highest-scoring winners from each region are automatically entered into the overall International Awards, which ultimately determine the world's finest property companies. An International Property Award is a world-renowned mark of excellence. Judging is carried out through a meticulous process involving a panel of 99 experts covering every aspect of the property business.
More information about VinaLiving may be found at: https://propertyawards.net/
Thank you for subscribing to our newsletter. VinaLiving's latest project launches will be delivered right to your inbox.