21/12/2021
Novaland, VinaLiving join hands to develop River Mansion zone at Aqua City
River Mansion, a zone of Aqua City, will be developed across 11 hectares, offering more than 200 villas and townhouses designed in European style.
The cooperation signing ceremony in developing the River Mansion zone of Aqua City was held on 18th Dec 2021 at Novaland Gallery in District 1, Ho Chi Minh City. At the event, Novaland Group and VinaLiving also inked a cooperation agreement with Fusion Hotel Group to manage and operate Aqua City Resort by fusion to be built at River Mansion.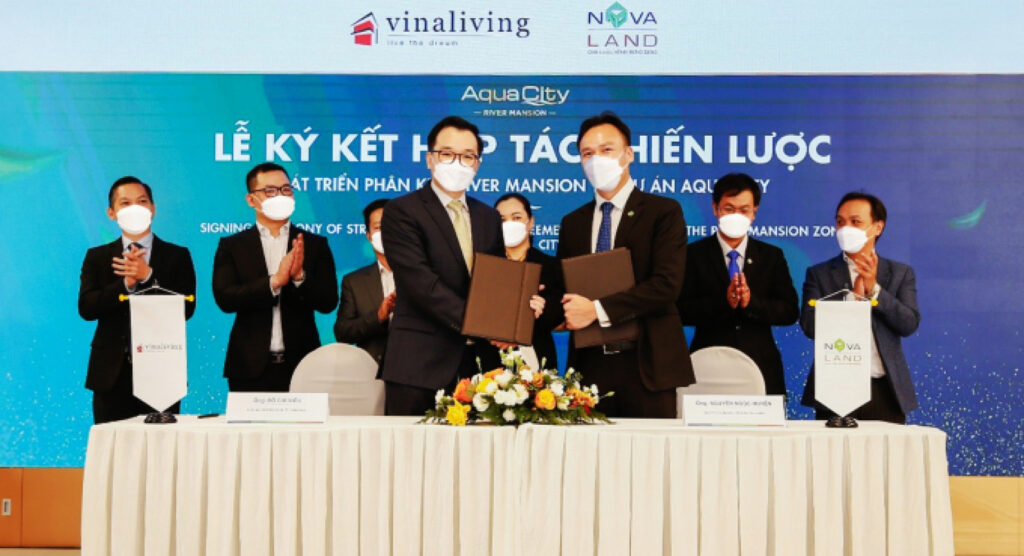 Located in a prime location along the river in the center of Aqua City, the River Mansion zone inherits the entire amenities of the eco-urban project. On an area of 11 hectares, this zone gathers more than 200 high-class villas and townhouses designed in a sophisticated European style.
Aqua City Resort by fusion, the highlight of River Mansion, offers outstanding facilities that complete the high-end ecosystem of amenitiesat Aqua City, offering a resort-like living experience, thereby increasing the overall values of Aqua City.
Aqua City Resort by fusion is developed by Novaland in cooperation with VinaLiving, under operation management of Fusion Hotel Group. The international standard resort is located by the Dong Nai River, designed in the French Colonial style. Inspired by the tropical spirit, simple but luxurious, the resort brings visitors relaxation and peace of mind, while offering a full range of resort, spa, and conference facilities to the Aqua City community and high-end tourists in the area.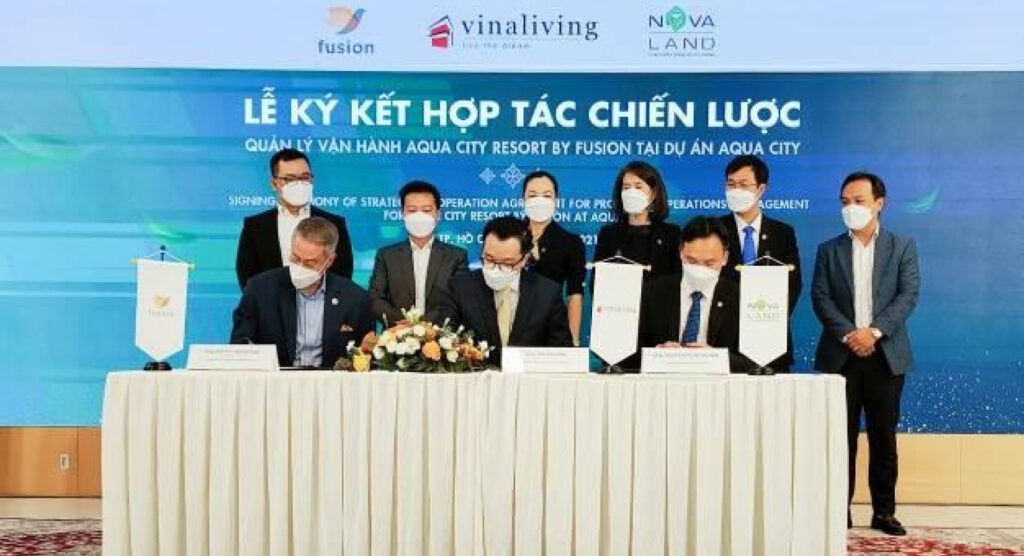 Talking about the cooperation, Bui Xuan Huy, CEO of Novaland Group, said VinaLiving is the leading brand in real estate, while Fusion is a pioneer hotel group in healthcare resorts in Vietnam. Therefore, cooperation with these prestigious brands would bring a lot of values to Aqua City investors.
"With the prestige, potential and professionalism in developing Novaland's project, VinaLiving and Fusion Hotel Group, the River Mansion zone in particular and Aqua City in general would meet customer expectations with living and investment values," said Mr. Bui Xuan Huy.
Mr. Do Chi Hieu, Chairman of the Board of Directors of VinaLiving, said the Aqua City smart eco- city project has a lot of potential, given its favorable location, comprehensive planning, and closed system of utilities. The cooperation in developing River Mansion with Novaland Group and Fusion Hotel Group can open numerous great investment opportunities and provide residents and tourists to Aqua City worthy living experiences.
Kevin J Beauvais, CEO of Fusion Hotel Group, expected Aqua City Resort by fusion to create a lasting impression in Aqua City under the professional operation of Fusion with unique values in tourism, culture, art, health care resort services.
"Aqua City Resort by fusion will bring to its residents and visitors unique values when indulging in the experience of high-end tourism, arts and culture, wellness and health care services," emphasized Mr. Kevin J Beauvais.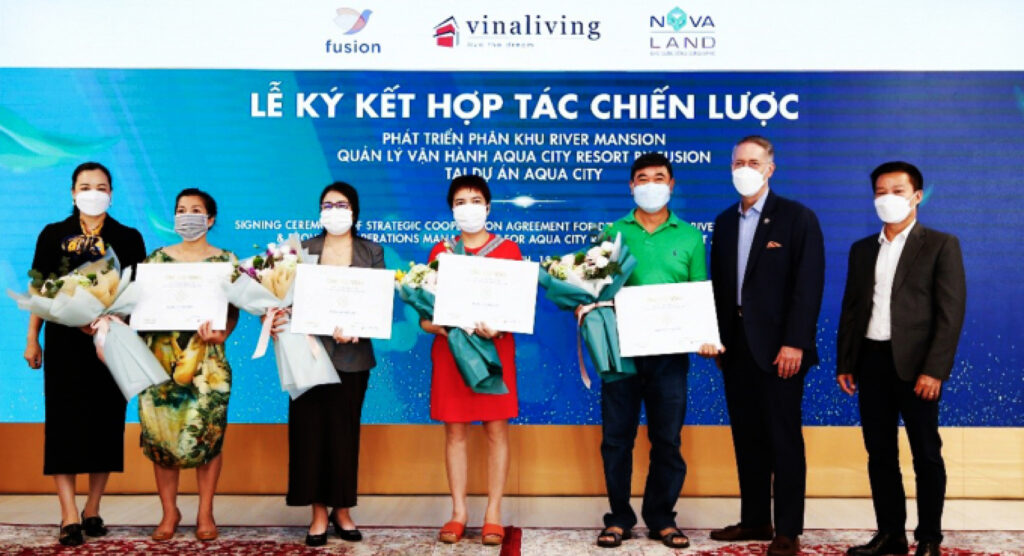 Also at the event, representatives of Novaland Group, VinaLiving and Fusion Hotel Group presented membership cards with many exclusive incentives to the first residents of River Mansion and Sun Harbor 1 zone of Aqua City smart eco-urban project.
Using Aqua City Resort by fusion services, residents will enjoy a discount of up to 40 percent on room rates, a offer of up to 30 percent off on food and drinks, office and laundry services, and therapeutic services, spa, early check-in and late check-out.
Aqua City is a satellite urban real estate project invested and developed by Novaland Group on the east of Ho Chi Minh City. On a scale of 1,000 hectares, the project inherits the abundance of nature and is surrounded by rivers, in the direction of smart eco-urban city planning, with 70 percent of the area dedicated to green spaces, transportation infrastructure and convenience, completed internal amenities including healthcare, education, entertainment, shopping.
Aqua City is expected to become a resort living space, a leading regional destination for residents and visitors with unique living experiences when it enters operation in 2023.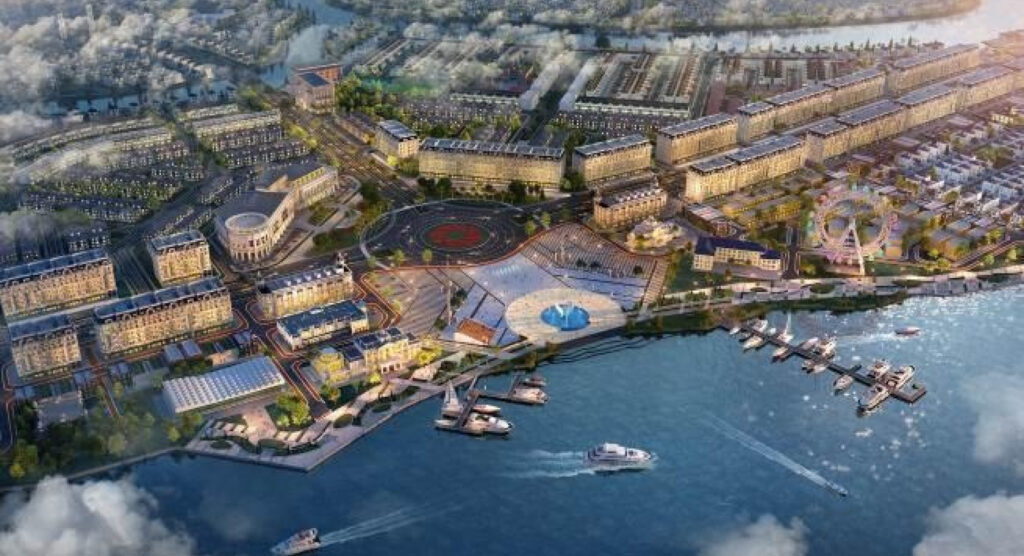 Previously, Novaland Group also cooperated with many prestigious partners like Accor Hotel Group for the development and operation management of the 4-star Novotel hotel in Aqua City, and Viettel Group in deploying smart city solutions. Accordingly, solutions like a centralized operating center (IOC), environmental pollution monitoring system, online payment, security monitoring and warning, smart parking, urban operation management… will be applied across the urban area.
Nguồn: Novaland hợp tác VinaLiving phát triển phân khu River Mansion tại Aqua City – VnExpress Kinh doanh
Thank you for subscribing to our newsletter. VinaLiving's latest project launches will be delivered right to your inbox.