27/04/2023
VinaCapital and VinaLiving receive IFC's EDGE champion recognition
VinaCapital and VinaLiving have partnered with the International Finance Corporation (IFC), a member of the World Bank Group, on accelerating the adoption of green building practices through the promotion of voluntary green building certification programs based on the EDGE ("Excellence in Design for Greater Efficiencies") software, standard, and certification system.
VinaCapital and VinaLiving and IFC EDGE are establishing a framework for greater collaboration in pursuit of their shared aspirations to move the hospitality industry to a lower-carbon, more resource-efficient path. To this end, VinaCapital and VinaLiving are committed to EDGE certifying 100% of their hospitality portfolio to be built in the upcoming years. To date, the company is in the process of EDGE certifying two projects with a combined floorspace of 168,000 sqm.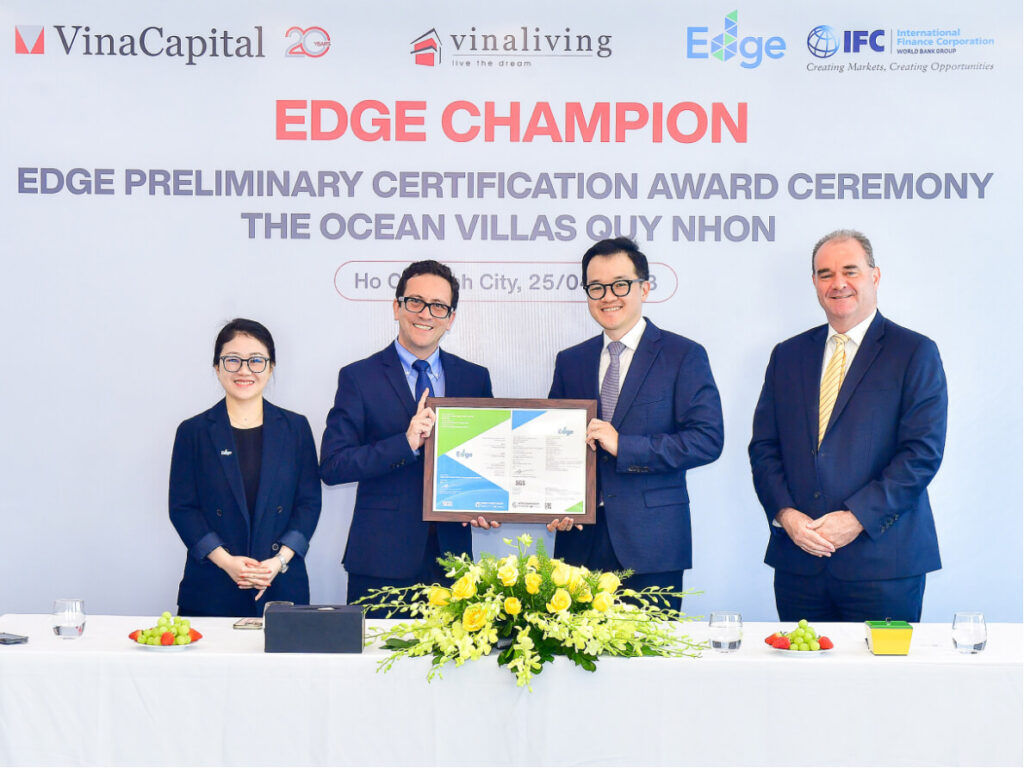 The EDGE Champion recognition is granted to companies that are committed to decarbonizing more than 80% of their portfolio with EDGE. "Market leaders that incorporate sustainability and resource efficiency into their business strategy contribute to the transformation of the real estate sector in their countries. VinaCapital's and VinaLiving's long term vision and commitment to EDGE will contribute to the transformation of the hospitality sector in Vietnam, and make it more efficient, competitive, and responsive to important challenges associated to climate change," commented Ommid Saberi, Senior Industry Specialist, Global technical lead for IFC's EDGE Green Buildings Program.
IFC EDGE will provide VinaCapital and VinaLiving with an education session on the principles and applications of the EDGE software, standard, and certification system.
VinaCapital and VinaLiving will promote sustainable design practices, and with IFC EDGE, jointly present the benefits of using the EDGE system at mutually agreed conferences, seminars, and other events, and through papers, articles, or research.
Brook Taylor, COO of VinaCapital, stated: "We recognize the importance of designing and building hospitality properties that are sustainable as well as beautiful. Becoming an EDGE Champion provides us with an internationally recognized framework and tools to use during the design and construction process. Further, we are proud to be at the forefront of furthering the adoption of green building practices in Vietnam and the region."
Thank you for subscribing to our newsletter. VinaLiving's latest project launches will be delivered right to your inbox.